Brands and users require authenticity from social media marketing. It's a statement backed up by marketing research. According to Statista, 50% of users said they found online ads annoying. Another one conducted by Stackla discovered 90% of consumers say authenticity is important to whatever brands they like and support. 
Having authenticity as a competitive advantage for advertising brands is paramount. Any high-performance effort is a product of creative and proactive strategy making.
Besides the established platforms, including Instagram, Twitter, and Facebook, developing social media apps are constantly being created. In fact, 3,700 new apps are added each day.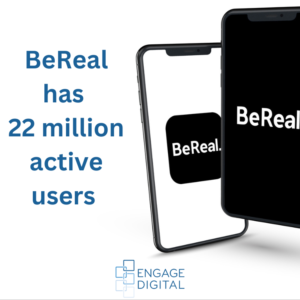 The app BeReal continues to top the chart. 
Marketers have taken notice, hoping to find ways to leverage the app for a brand's campaign. BeReal aims to answer the question of authenticity, with the tagline emphasizing this value: 
"Your Friends for real. A new and unique way to discover who your friends really are in their daily life." 
To date, over 22 million users actively agree with the company's mission statement. 
How BeReal It Works
BeReal wants to take the glamor out of sharing images. This means: no face-altering software and no filters. Whatever a user is doing throughout the day is posted and exchanged. At random times, users are prompted to snap a pic of themselves. The front-facing camera captures a selfie; the back reveals wherever the individual is. Once push notifications are received, both the front and back cameras are activated. The timing is secret and randomized.
The authenticity has massive appeal to Generation Z. To appease this targeted market, the platform went on a paid ambassador campaign exclusively at college campuses. The effort was paid by a $30 million capital funding investment. As of this writing, the app has grown in monthly active users by 315% month-over-month since January. 
How To Advertise on BeReal
Similar to many developing social media apps, BeReal's interface doesn't permit advertising or brand accounts. It's even banned in the company's terms and services. 
BeReal's setup doesn't allow advertising, influencers, or brand accounts. However, once there is a built-in audience (especially if that number is in the tens of millions), marketers will get savvy with their craft. The intelligent marketer will achieve a competitive advantage by providing higher value to customers and delivering efficiently. 
Strategies must be altered to adapt to new market opportunities. Using an emerging social media (like BeReal) is important in establishing a growing business. 
Take for instance Chipotle… 
Creative Advertising
 on BeReal
Chipotle was the first to show it was possible to utilize the app's lo-fi appearance advantageously. The fast-casual posted a bag that simply had a coupon code. The first 100 people were given a free meal. The front picture showed an individual holding a fork. The Vice President for digital marketing at Chipotle released the following statement: "We see a massive opportunity to highlight our brand's transparency in fun ways for our fans on BeReal." 
Brands joining BeReal includes PacSun, Trident, and Love Island.
Reception
For the cynical, the platform could be dismissed as a flash in the pan. Despite the skepticism, other apps have taken notice and are undergoing a copycat approach. 
Snapchat introduced a "new dual" camera option. The new feature is an exact duplicate from BeReal. Meta is currently testing new Instagram features that mimics the app. Twitter has the viral BeReal trend. Twitter users edit and upload their images in BeReal fashion. TikTok even reposts compilations of BeReal posts, with the hashtag #BeReal prompting over a billion views.
BeReal Strategy
Creating content on the platform is completely dependent on the brand. If the product is gaudy, flashy, or designer, trying out BeReal is probably not the best way to utilize your time. Contrastingly, for a more makeshift approach, the trending app has a lot of potential. 
Many brands are using behind-the-scene content. The push toward "real life" content is a good starting point when appealing to millennials, and Gen Z. An estimated 82% of Gen Z'ers trust a brand more if they see real customers in their ads. 
Creativity seems to be paramount for outside-the-box thinking on BeReal. Because formal advertising isn't permitted on the platform, brands are showing themselves without any frills or filters. Sour Patch Kids recently did a collaboration that featured innovative thinking alongside Trident Gum. One shot revealed the interior of the packaging; the other was a Sour Patch Candy. The tagline read: "made gum together, might as well BeReal together." 
Will BeReal Survive?
Once the exclamation hazard emoji pops up on your screen, you have two minutes to take a photo. However, is that all the time BeReal has left? Only two minutes of fame before it slips back into app store obscurity? 
The photo-sharing app can get irritating with its overwhelming number of daily notifications. Still, it could be the new form of journaling in the 21st century. 
Casual media is pushing to be the future of media. With a low barrier to entry, and a reinforced brand value, BeReal could continue to serve as a better option to the much-maligned TikTok. It also doesn't hurt that it exists in a social commerce industry predicted to be worth a whopping $1.5 trillion over the next five years.