Short-form video content is all the rave in digital marketing. Creating content for your business can increase conversion rates, email CTR, brand association, and audience engagement.  Short-form videos are those that range between a few seconds to three minutes. With briefer attention spans, and so many things competing for our attention, consuming information quickly is a vital aspect in promoting higher engagement.  The proof is in the numbers… and social media marketing has definitely taken notice: 
Now, 89% of marketers are increasing their investment in short-form social videos this year. This goes along with the 91% of active Instagram users that claim they watch videos on the app at least once a week. TikTok has 800 million users worldwide who hungrily digest fast and fun fragments of information numerous times a day. Users watch two billion short vids on Twitter daily, with an average of 23.7 hours consumed per month on the channel.  Because over 3/4 of internet users watch online video content every week, this form of marketing helps increase revenue 49% faster than other types of content. Basically, open any social media app, and it doesn't take long for a video to catch your eye. 
How to Get Content on a Platform
Honestly, it's easier than it looks. There is a plethora of free tools and tutorials galore showing the ins-and-outs of video editing. Take note: before content is produced and edited, one must establish marketing goals prior. They are as follows: 
Consider your Marketing Goals
of course, this is a no-brainer. Establishing the purpose of creatives, moving your target audience further along the funnel, and eventually creating a relationship between brand and consumer, should all be considered prior to promotion. 
Generate Brand Awareness
High-quality content for social media will always assist as part of a larger campaign. 
Increase Engagement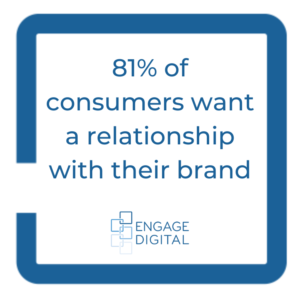 Gauging and optimizing your audience's engagement is everything. What does the audience want? What do they aspire to achieve? What are their challenges? It's no secret that the consumer seeks connection. According to a recent Merkle survey, 81% of consumers want a relationship with their brands. Employing consumer education in videos is an easy way to foster those relationships.
Drive ROI
Compelling the consumer to sign up and register builds connections with new leads and potential customers. Videos that tease an upcoming project can serve as a digital preview, motivating hype for an official release date. Ideas in this stage include teasers for webinars, testimonials, or live events.  Once you have a plan in place, then you can move forward toward examining the advantages in short-form: 
Promotes Higher Engagement
This is particularly true with the younger generation, who values video above all other forms of content. Creating sharable videos provides space for feedback and comments, increasing interactions between the brand and consumers. 
Ranks Higher in Google Search Results
We're sure you've heard of SEO. Keeping visitors on the platforms leads to higher rankings on Google. The algorithm takes into account the mass of users on websites and positions them higher on SERPs. 
Increases Email Open Rates
Email marketing campaigns lead toward increased email open rates. We get that email is still a primordial way to communicate, but it's still popular and reliable. Email strategy offers rich, smart, and relevant content directly to your leads.  Whenever the video is shot, various platforms can prove beneficial to brands using short-form videos in their digital marketing strategies. However, putting them in front of the right audience on the proper platform can be tricky. As of this writing, there are countless online video platforms totaling a valuation of $6.13 billion last year. The value of these platforms is expected to grow 8.4% through 2028. 
These are the Best Video-Sharing Apps:
TikTok Video Sharing
Be the first, and all the rest will follow. Sure, the platform was released in 2016, but it took a global pandemic for the app to really take off. TikTok is on pace to be the fastest-growing social media platform of all time. Don't cringe; this alternative version of online sharing means big business. As of this writing, TikTok has over one billion active users worldwide, is the seventh-most popular social media platform, and serves as the youngest on that list. To put it in perspective, Instagram took nearly eight years to hit the 10-digit audience marker; Facebook took nearly 9 years.  Interestingly, it's bigger than the numbers indicate; the billion users doesn't include users in China. In the platform's native continent, the social media site operates under the name Douyin, and currently hosts 613 million users. 
YouTube Shorts
The video streaming giants launched a trial run for the feature in India in September 2020, and has since accumulated over 6.5 billion daily views. The concepts are simple: create, get discovered, watch. Shorts feature an array of creative tools that helps their creators make new and exciting content. It only allows 15 seconds or less of content. These small movies offer a pleasant diversion from the difficulties of modern life.  According to a survey by Soul Publishing, 69% of customers reportedly watched brief videos every day for anything from 30 minutes to three hours. 
Instagram Reels
Don't forget that Instagram is part of Meta; otherwise, Facebook would be on this list as well. This February, Reels was released to 150 countries with new features that allowed creators to earn funds through their short-form video offerings. Initially, video lengths were limited to 30-second videos. They have since been expanded to a minute.  Currently, Reels make up half the time people spend on both Facebook and Instagram. For those looking for an advantage over TikTok, Reels also adds 8% more screen real estate than the app.