It's that time of year again. As the back-to-school season approaches, brands are facing a golden opportunity to engage with one of the most influential consumer demographics: Generation Z. 
Born between the mid-1990s and early 2010s, Gen Z represents a powerful and diverse group of young consumers; each has unique preferences and behaviors. This generation graduates to consumerism at a younger age, with teens and pre-teens responsible for half of purchases. They're also tech-savvy, diverse, and carry a preference for authentic and personalized interactions with their preferred brands. 
To capture the attention of these "Digital Natives," brand must employ innovative and relevant marketing strategies. 
By The Numbers
In total, this time of year garnered $110.8 billion for back-to-school shopping in Fall 2022 — and that was just in America. The average household budgeted $864.35 for their back-to-school shopping, over $250+ more than the average spending in 2015. Back-to-school shopping is expected to increase 8.01% from the previous year. 
This year may see a slight hit due to inflation. As of this writing, there is no evidence that consumers will change their spending in spite of economic uncertainty. However, a more-for-less attitude has been adopted by consumers willing to reevaluate their relationships with companies they were previously loyal to; 77% claimed they would switch brands if prices were too high. Because of this, brands will have to work even harder on developing strategies to influence purchases from their prospects. 
Value In Sustainability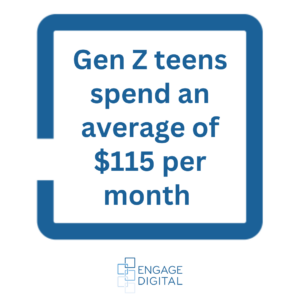 Gen Z teens have an average of $115 in spending each month; by the end of the decade, they will make up 30% of the U.S. workforce. Still, they are very particular in regards to brand perception. This generation expects brands to be ethical, transparent, and socially responsible. They also care more about the quality of their purchases over brand loyalty. 
Brands should communicate value in less direct ways, relying on emotional connections and positive messaging. Brands should push long-adapted themes of inclusivity and rely on "modern American optimism." 
Products known for their sustainability efforts can also take advantage of the opportunity by launching environmentally-friendly back-to-school campaigns. In fact, Gen Z has a strong commitment to these efforts, with 82% expressing concern about the state of the planet; 72% say they have already changed behavior to reduce the impact on the environment. 
Social Media Marketing
Because parents of Gen Z usually belong to Generation X, brick-and-mortar locations are still a relevant option, decreasing online spend for the first time since 2017. Generation X was also an independent generation, passing these qualities down to their children. However, Gen Z lives and breathes for e-commerce. In total, an estimated 42% of back-to-school shoppers plan on using emerging technologies to do their shopping. Parents are becoming accustomed to convenience factors like free and fast shipping. 
Incorporating a standout online marketing strategy needs to rely on social media marketing. Retailers are adding additional optimization and analytics features to stand out as the field grows more saturated. Social media is the beating heart of Gen Z's digital landscape. An estimated 76% of Gen Z consumers report using Instagram daily; 68% use TikTok; 67% use Snapchat. In other words, Gen Zers are extremely online, spending four or more hours on social media everyday. 
Brands can create engaging content that aligns with online back-to-school themes and trends to capture their attention. For instance, encouraging engagement, utilizing branded hashtags, and running user-generated content campaigns can foster a sense of community and authenticity around the brand.
The Visual Generation
Besides "Digital Natives," Gen Z is also referred to as the "Visual Generation." Gen Z gravitates toward video content, with platforms like YouTube and TikTok as their go-to sources of entertainment. Brands can use short-form videos, vlogs, and tutorials to communicate their back-to-school offerings effectively. In particular, short, engaging videos should highlight promotions and discounts, not interrupting Gen Z's attention while they're preoccupied watching their favorite content. 
Gen Z also appreciates personalized pop-up ads that cater to their individual tastes and preferences. Brands can leverage data analytics and AI-driven technologies to provide those personalized product recommendations and offers. A personal touch enhances the overall user experience and could strengthen brand affinity. 
Relatability
For Gen Z, the relatable always replaces the aspirational. This diverse generation drives their behavior and value trends in the market leans into self-expression from a non-binary lens. Hyper digitally intelligent, Gen Z needs a relatable brand narrative — both online and offline — that will ultimately win their hearts and their wallets. 
Brands that adopt a lighthearted and humorous approach can create memorable campaigns that resonate with this generation. For example, Little Caesars Pizza is renowned for their witty and humorous social media presence. Usually during the back-to-school season, the pizza chain shares relatable memes and funny content, creating a buzz amongst Gen Z consumers and driving engagement.